ECLASS classification as a standard for your products and services  

NovaDB ECLASS Business Portal - The quick entry into ECLASS classification

In eBusiness, are you required to provide product-related documents in structured form to support your procurement and sales processes? Classify them according to ECLASS and start interoperable data exchange across companies!
What you gain with NovaDB
ECLASS plays a crucial role in e-commerce and e-procurement. Through standardization and uniform classification, it enables the smooth exchange of product data. This makes procurement and sales processes more efficient, improves interoperability between companies, and increases data quality. As an internationally recognized standard, ECLASS facilitates global trade and promotes collaboration across industries. Stay competitive and get started now! 
Acceleration of the assignment of classifications
Transparency for procurement and sales processes
Savings through reduction of procurement costs
Quality improvement through the classification check function
Flexibility for reclassification of catalog structures
Customizing allows classification at different levels of article groups.
ECLASS Business-Portal powered by NovaDB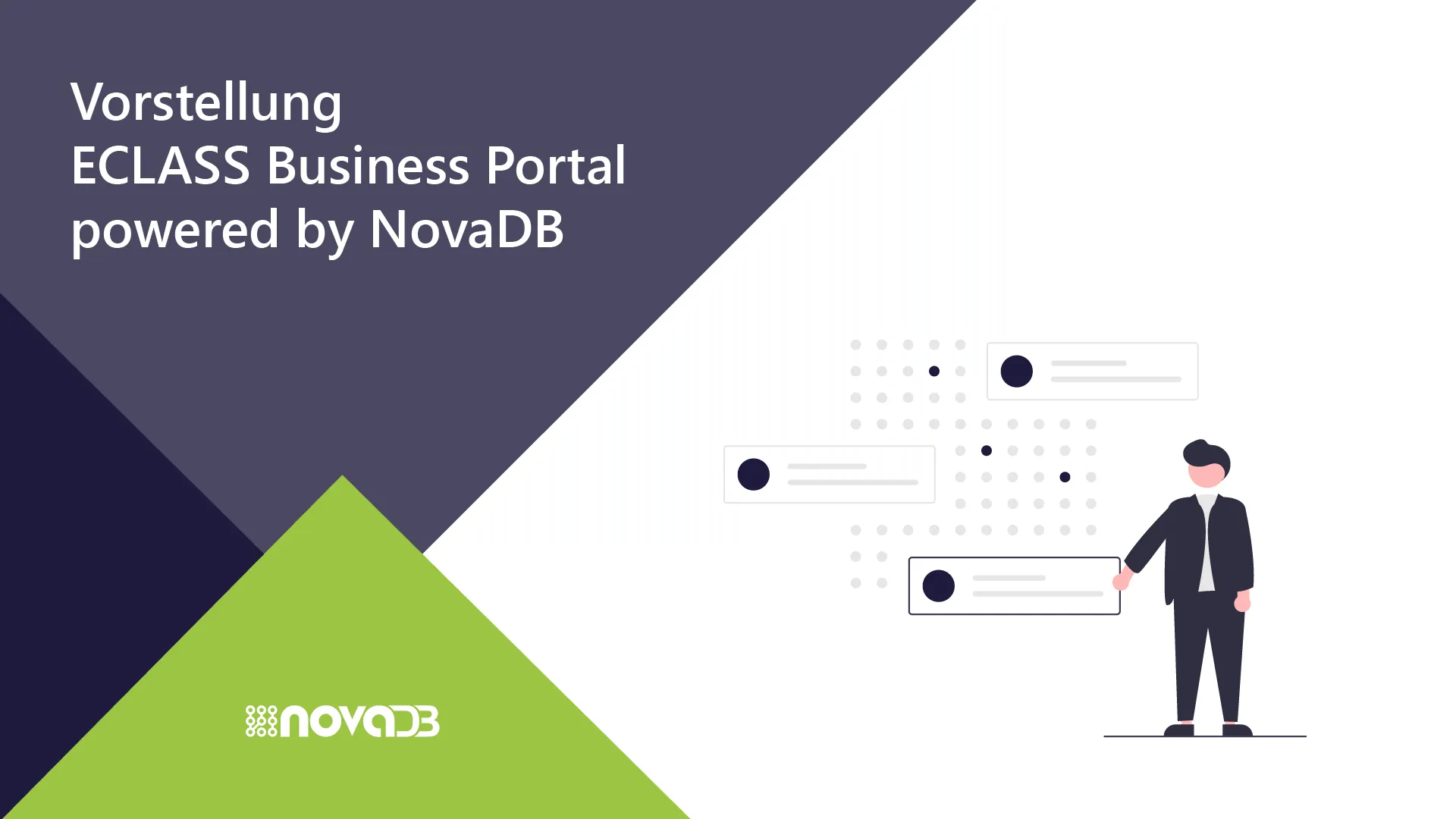 Youtube collects data when loading the video. By clicking on "Load video at Youtube" you agree to this. You can find information in our privacy policy.
Maximize your competitiveness and efficiency
Efficient business processes: ECLASS enables structured classification of product data, resulting in efficient procurement and sales processes.

Cost savings: The interoperable data exchange and standardization of product descriptions can reduce costs through reduced manual effort and error minimization.

Increased productivity: The ECLASS Business Portal powered by NovaDB offers simple and intuitive data entry screens that enable fast and effective classification of products and services.

competitive advantage: Using ECLASS enables better collaboration with suppliers, customers and partners, which can lead to stronger positioning in the market.

Future orientation: ECLASS is an internationally recognized standard and lays the foundation for future developments in e-commerce and Industry 4.0.
Efficient product data classification with the ECLASS Business Portal powered by NovaDB
Simplified product data classification: The ECLASS Business Portal powered by NovaDB provides intuitive data entry screens that allow users to easily and conveniently classify their products and services according to ECLASS.

Time savings: By using the ECLASS Business Portal, users can save time in creating and managing product-related documents by accessing standardized product descriptions and classifications.

Effective data exchange: ECLASS enables interoperable data exchange across companies, so users can easily collaborate with suppliers, customers and partners, regardless of their internal systems and data formats.

Error minimization: The uniform structure and naming of product data in ECLASS reduces errors in communication and interpretation, resulting in higher data quality.

Flexibility: The ECLASS Business Portal offers users the ability to classify their products and services from anywhere via a web browser, without the need to install special software.

Continuous improvement: The ECLASS Business Portal enables versioning and change tracking of product data, so users always have the most up-to-date information and can track changes to data.

Improved collaboration: By using ECLASS, users can seamlessly collaborate with other departments, suppliers, and customers because they are all based on a common language and structure.
Your IT will love NovaDB ECLASS Business Portal
Modern technology: NovaDB is based on the MACH architecture (Microservices-based, API-first, Cloud-native, Headless), which is agile, flexible and future-proof. This enables CTOs to leverage modern technologies and design their system landscape accordingly.

Scalability and resiliency: As a cloud-native application, NovaDB provides elastic scaling of highly available resources, giving CTOs the ability to easily adapt their infrastructure and minimize downtime.

Simplified integration: NovaDB enables easy connection to existing systems and applications through standardized interfaces (APIs). This allows CTOs to exchange data smoothly and integrate different tools and services seamlessly.

Efficient development: NovaDB provides a low-code development platform with pre-built and extensible application packages. This enables CTOs to reduce the cost and complexity of development and deliver projects faster.

Future-proofing: By using NovaDB and the MACH architecture, CTOs can ensure that their systems are state of the art and meet the demands of the digital world. NovaDB supports the use of modern technologies and enables seamless adaptation to future developments.
Overall, NovaDB offers CTOs the ability to make their IT systems agile, efficient and future-proof by taking advantage of the MACH architecture and NovaDB's flexibility.
Future-proof and ready for new challenges
ECLASS Business Portal powered by NovaDB for the classification of your products and services
The integration of ECLASS standards into a Product Information Management (PIM) system such as NovaDB represents a strategic decision that offers far-reaching advantages for companies in e-commerce and e-procurement. By using ECLASS for the standardised and structured classification of product data, data quality and interoperability are significantly increased. These advantages are fully exploited in the PIM system, also known as product information management. Here, the standardised data can be efficiently managed, updated and optimised for different distribution channels.
The symbiosis of ECLASS and product information management (PIM) leads to improved internal data management and optimises external communication with suppliers, partners and customers. This results in more efficient procurement and sales processes, a reduction in manual effort and a minimisation of errors. Overall, the integration of ECLASS into a PIM system creates a robust foundation for digital transformation and enables companies to be agile and competitive in the ever-changing business environment.
Using intuitive data entry screens, you can easily classify your products and services according to ECLASS from anywhere using a web browser. Your IT does not have to install anything. Request our brochure!
More information about NovaDB PIM
Mass data maintenance/data import/mapping to ETIM with Microsoft Excel Add-In
Besides the maintenance in NovaDB you also have the possibility to import your data via Excel to NovaDB. This is a convenient way if, for example, you want to import a large amount of your data to NovaDB. With our Excel add-in, it is also possible to map and classify your product data, which is already classified according to ETIM, for example, according to ECLASS.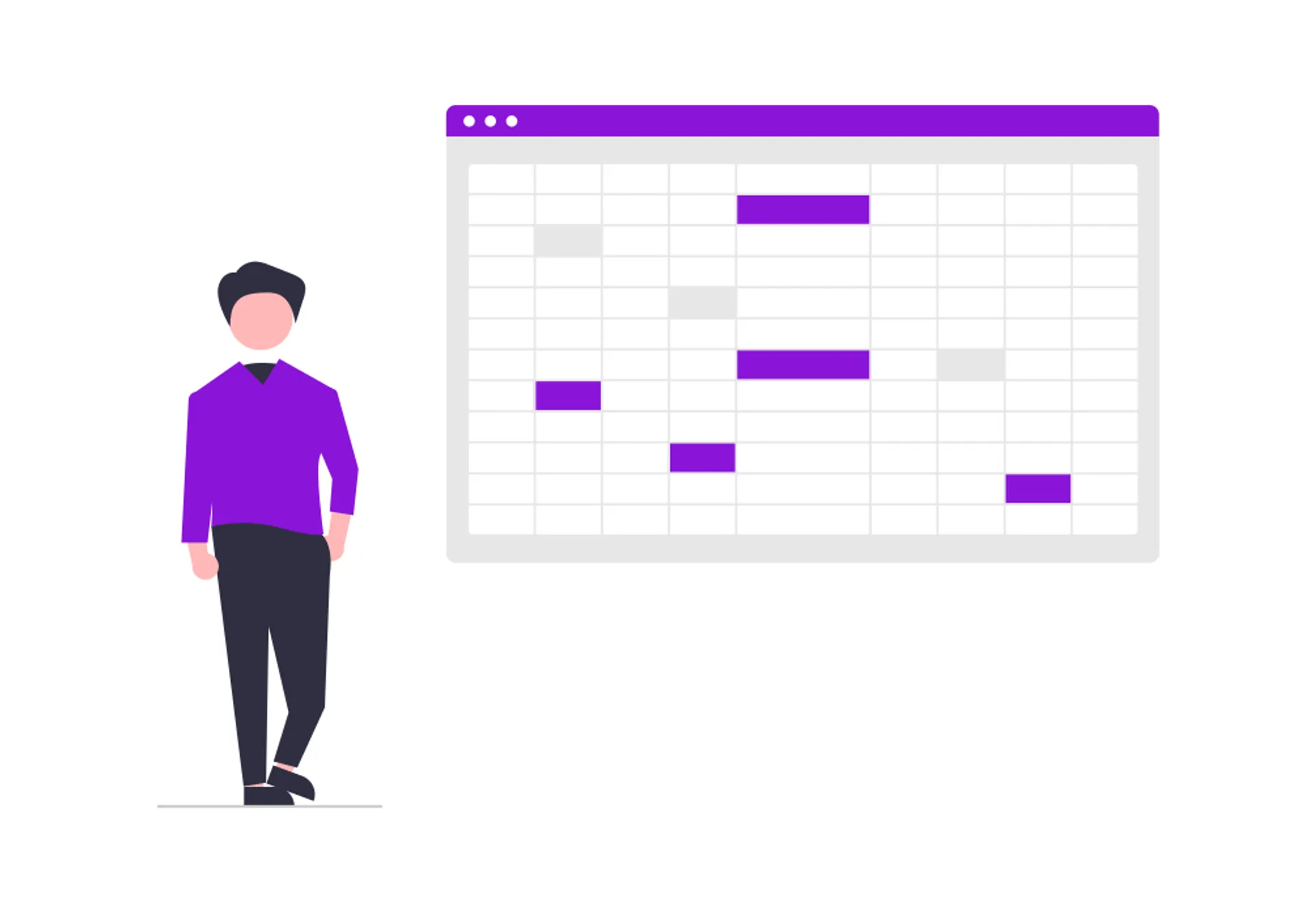 BMEcat for electronic catalogs and e-procurement systems
BMEcat is the established standard for the electronic exchange of catalog data. With just a few clicks, you can use NovaDB to transform your products and services classified according to ECLASS into the BMEcat standard. This data can then be conveniently exported to e-procurement systems. NovaDB helps you stay competitive. Different versions are supported: BMEcat 1.1, BMEcat 1.2 and BMEcat 2005. Arrange a presentation appointment!
Marketing support with Noxum Plugin for Adobe® InDesign®.
The Noxum Plugin for Adobe® InDesign® enables designers in advertising agencies, printers, publishers or marketing departments to combine valid ECLASS data from the ECLASS Business Portal with individual layouts directly in InDesign®. The implementation of the Noxum Plugin for Adobe® InDesign® equips the layout program with functions that allow users to access content from the ECLASS Business Portal directly from InDesign® and retain control over layout and typography. For this purpose, users work as usual in InDesign®. Arrange a presentation appointment!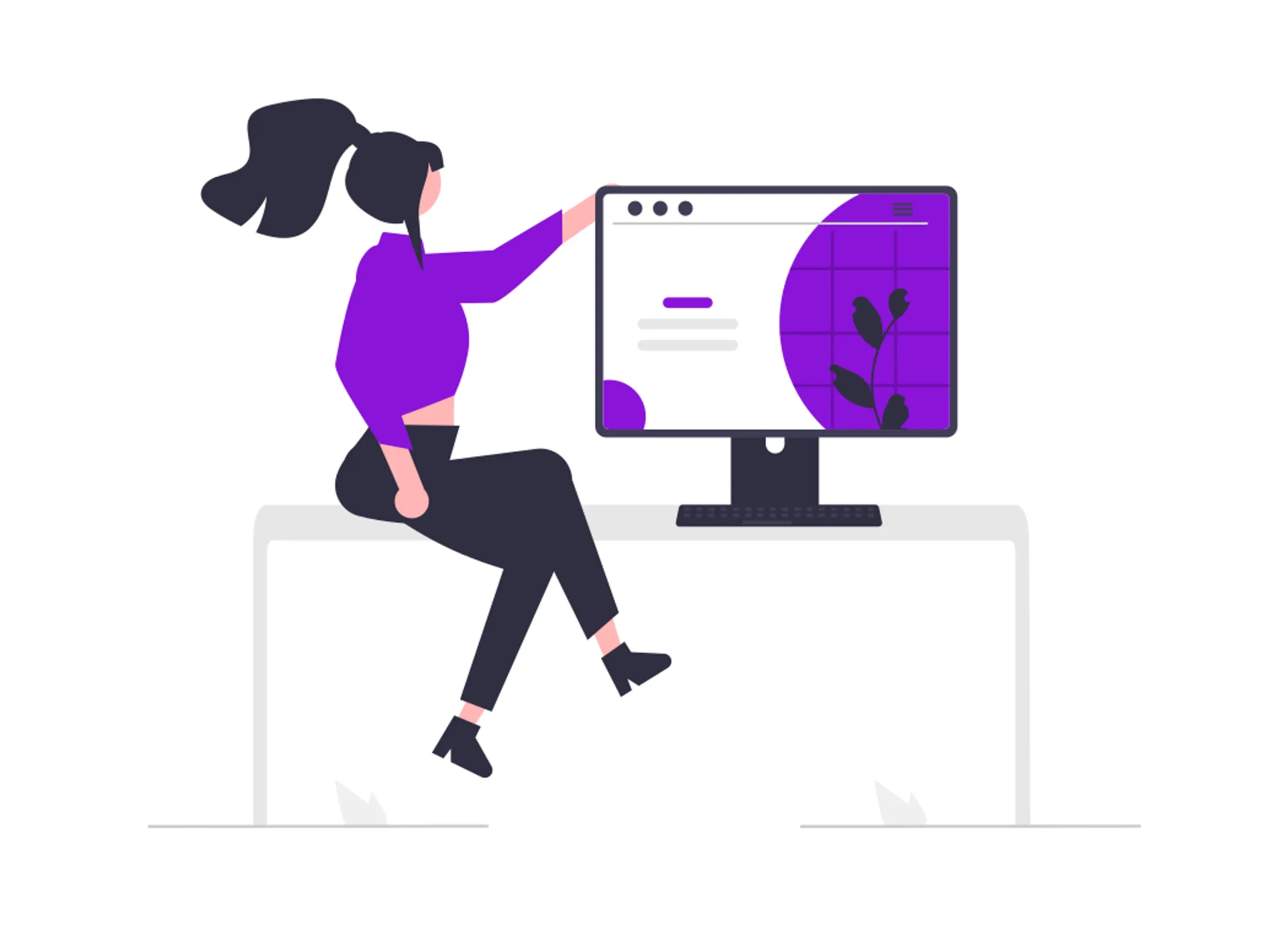 ECLASS Business Portal shows its strength in combination with ECLASS application packages
We have already prepared ECLASS application packages for you! If you purchase the license for ECLASS Standard, we can provide you with the ideal maintenance interface. Read more about the ECLASS application packages in our technical article in IT&Production.
Version control and change tracking at a glance
With the ECLASS Business Portal powered by NovaDB, you have your processes under control. The system automatically creates versions in which changes to product features, for example, are logged. The user can compare versions with each other with just a few clicks. Changes are highlighted in color, giving the user a quick and clear overview.
Talk to our consultants if you would like to learn more.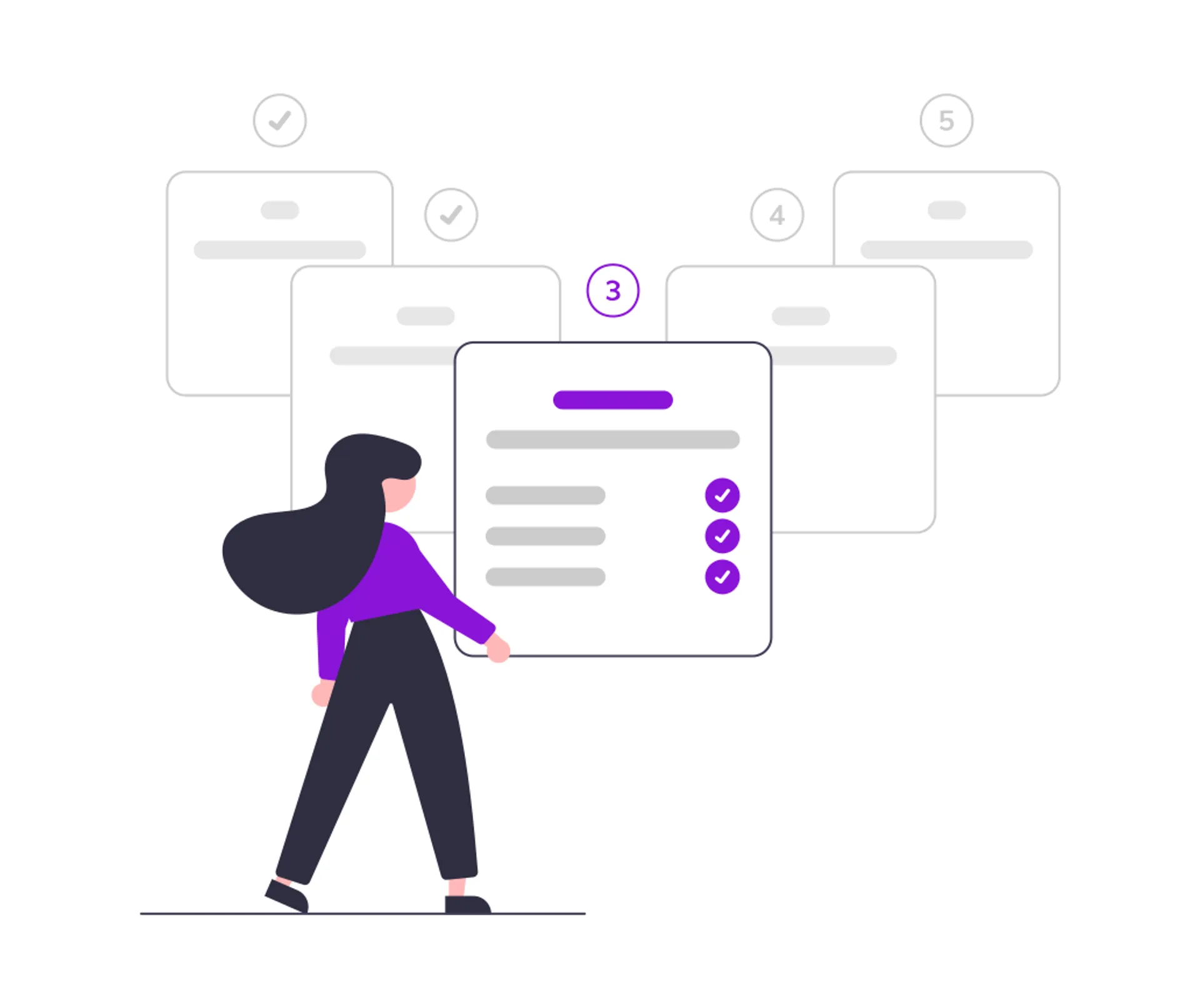 NovaDB – Process optimization through Kanban boards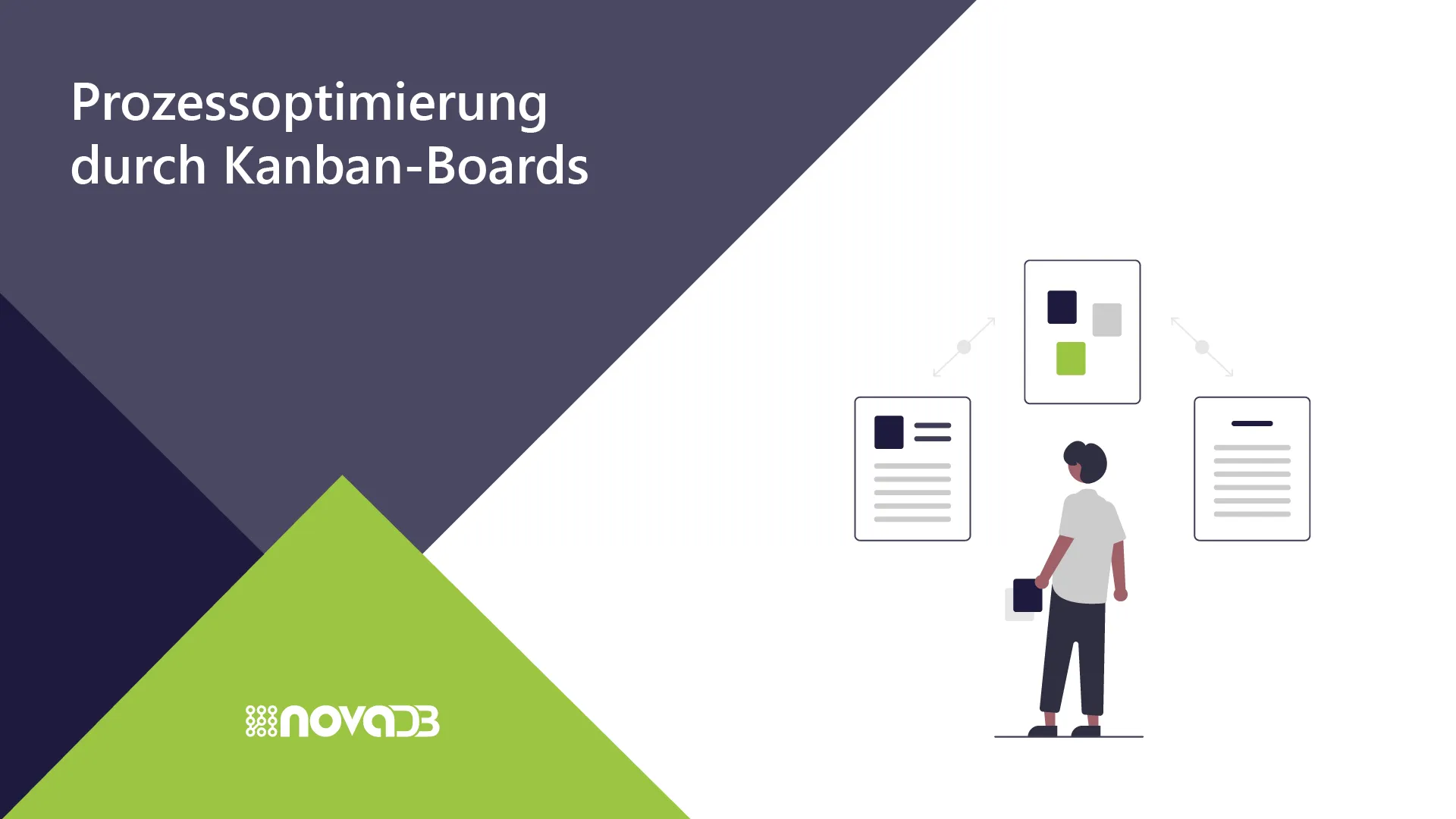 Youtube collects data when loading the video. By clicking on "Load video at Youtube" you agree to this. You can find information in our privacy policy.
Kanban boards for optimized collaboration
Publish better content with workflows
Kanban boards have established themselves as essential tools for efficient teamwork and continuous process improvement. They provide a clear and transparent view of the entire project process. They not only facilitate the management of individual tasks, but also ensure that sources of error are significantly reduced through the use of role-based workflows and clearly defined deadlines. Whether it's scheduling or publishing content, with Kanban Boards you benefit from increased flexibility and reliable process reliability.
Unity and collaboration in one central location
Use Kanban Boards to define specific workflow states and roles. This ensures that all team members and those involved in the process are always informed about the current status without having to leave the "NovaDB" platform.
Ensure maximum process reliability
It is crucial to ensure that any errors or unauthorized contributions do not go unnoticed. With Kanban boards, you can set clear role assignments and deadlines so that everyone knows what needs to be done and when it needs to be done.
Create and approve content efficiently
With the ability to define different workflows for different content types or products, you can bring in specialized subject matter experts. They can not only create content, but also evaluate and approve it qualitatively.
Flexibility and clarity in any situation
Kanban Boards' role-based workflows enable teams to stay on top of things, no matter how complex or variable the requirements. This allows you to adapt to any situation and always work efficiently.
Get in touch with us!
Thank you for your interest. We will get in touch with you.